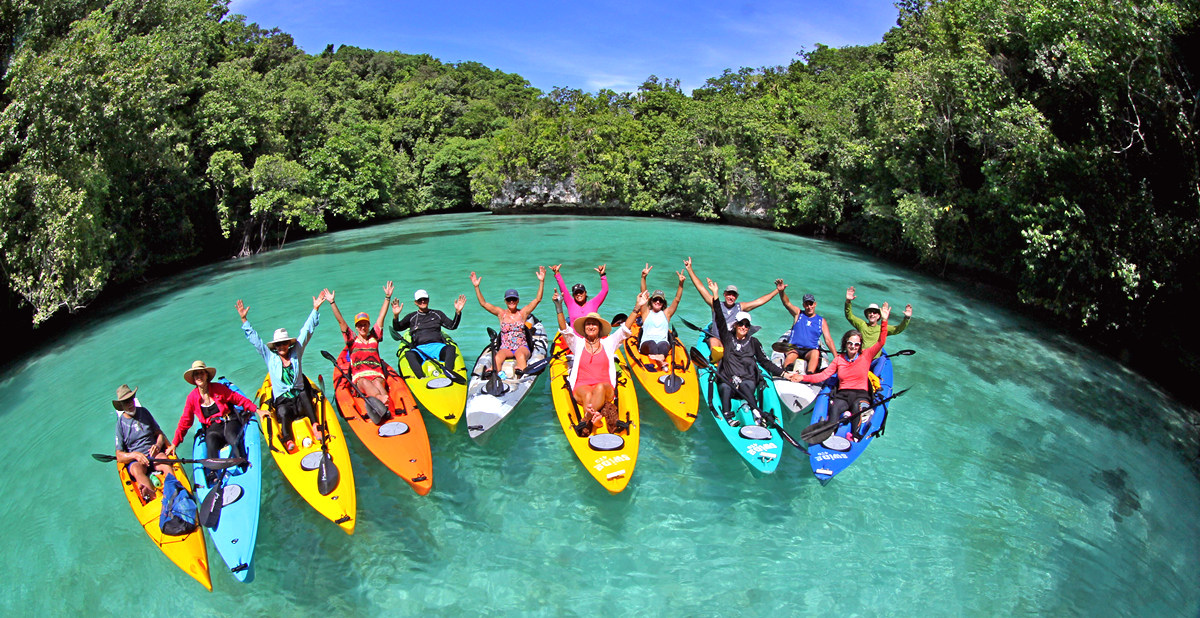 Palau Adventure Kayak Snorkel tour
Camping Safari in the Rock Islands
Two person minimum
Check in on January 25, 2020 Check out February 3rd

4395.00 per person (does not include airfare)

Recommended guests bring:
-Personal mask, snorkel and fins (rentals available $15.00 per day)
-Children must be 13 years of age or older only
-SS water bottle or other durable bottle for water
-Rash guards with long sleeves
-Sun hat
-Keen Sandals, toes covered or like toe covered sandals
-Reef safe sun block
-Child's level OFF
-$104.00 cash for permits.
Expedition Itineraries:  
Our Paddling/snorkeling Palau's Rock Islands Safari offers and excellent opportunity to visit the Rock Island's rarely seen salt water lakes, Islands, and pristine beaches. We have put together a true African style Safari from kayaks snorkeling and paddling into some of Palau's most unique salt water lake ecosystems. This is a true "off the maps" exploratory adventure.
Here is the itinerary:
1 st day Babeldoa cultural tour and 7 days Camping
Includes first two nights and last 2 nights in deluxe Koror bungalow.
Hotel stay includes Breakfast
Includes Safari crew set up of all meals, solo, couples, family tents and, full support by boats and transfer throughout the Rock Islands, all airport transfers.
MEDICAL & TRAVEL INSURANCE
Every effort is made to ensure you have a safe trip but we strongly recommend purchasing trip cancellation/interruption insurance in the event of unexpected changes in your travel plans. Also recommended is accident, baggage insurance, evacuation of & medical coverage for Scuba Diving.
ALLIANZ INSURANCE:
WWW.ALLIANZTRAVELINSURANCE.COM
Scuba Diving medical and evacuation insurance: www.DiversAlertNetwork.org
Become a Diver Alert Member: www.diveassure.com/new/usa/form_member.asp?referrer=scubqatra
AIRLINE SUGGESTIONS:
Here are some airline suggestions for flights from LAX OR SFO to Palau.China Air –(usually the best price) currently $1695
United Airlines –$1750
Delta Air